Have I spent this entire baseball season watching the Astros or has this been one long episode of TBS's new hit comedy Sullivan & Son? I'm not quite sure. I know the laughs at Minute Maid Park are few and far between. There's not a lot of clapping or cheering, either. There's not a lot of intrigue or "what'll happen next?" talk amongst the fans. And, yes, apathy is quietly overcoming the fan base as our hopeless hometown Houston Astros again dig themselves deeper into the cold dark depths of the National League cellar. Again. September has brought us football, though and now we can tuck the Astros in and put them to bed.
…And, then the clever fellow, who I assume is the "Son" in Sullivan & Son said, "I'm half white and half Asian. That makes me Caucasian." LOL! Brilliant!
Has Jim Crane thought of hiring a guy to hold an "applause" sign?
Enter our unlikely hero: Roger Clemens. Our once prodigal son, now prodigal grandfather, has coasted into Astros discussions on the wings of sports pages everywhere and has huffed and puffed a new refreshing life into our beloved hometown team. He suspiciously made a start for the local independent team? Cue speculation! Headlines read: Roger Takes a Shower, Uses Dandruff Shampoo! Stop the presses! This is edge-of-your-seat excitement! Anticipation is running high! "We'll see where it goes," has been Google translated from English to Rocketese as "Hell yeah! Dust off my old Astros uniform, Jimmy! Let's do this!" And now the whole town is abuzz at the notion of a 50-year-old prospect toeing the rubber before season's end.
Not everyone is happy about it.
But, then again, I'm not too happy about accidently watching Sullivan & Son.
People suggest that signing Roger Clemens is counterproductive to the "youth movement." The Astros spent plenty of time, energy and took plenty of beatings by jettisoning pricey veterans in lieu of wet-behind-the-ears baseball greenhorns. Signing Roger Clemens will turn our team into a sideshow! A farce! A joke! It'll negate all the hard work that has been done! Blood! Sweat! Tears! This would be a more embarrassing sign than the big fat community partners' billboards that are ocular-blocking our once beautiful view of our bustling city!

Before I go on, let me just fess up: I agree.
But is Roger worth the trouble? Can crusty old Clemens be good for the aimless Astros?
You bet your sweet behind!

As interest in our Astros wanes, Roger Clemens could bring people out to an otherwise empty and abandoned ballpark. And that would be huge! In fact, it would be huger than the laughs I got from watching Sullivan & Son. It would be huge because when fans lose interest, they do two things: they begin rooting for other teams or they become apathetic and disinterested in baseball. People aren't as fickle as you'd like to believe. They're difficult people to get back, too!
"An Asian girl holding a gun. Is anyone else turned on by this?" said the creepy old common character actor from Sullivan & Son. LMAO! Hilarious!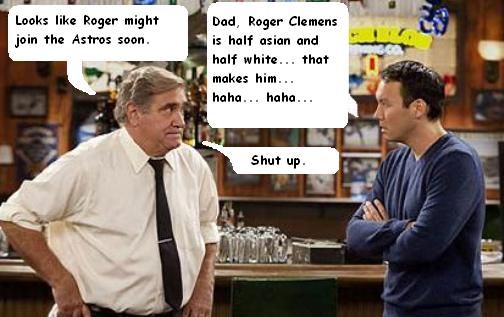 Do you want to know what Jim Crane should be afraid of? Look no further than the 2012 Orioles and Pirates – both teams are having very good seasons standings-wise but are still struggling severely attendance-wise. They're both in the bottom third in 'home attendance' and are practically begging folks to support their product.
Why is this? Simple: these cities' are hopelessly apathetic towards their baseball teams and/or the fans there have moved onto other, more successful teams, in the same region. The teams in Baltimore and Pittsburgh have great stadiums, rich traditions and, yet, people refuse to go to baseball games because these teams have developed a culture of losing and have expedited fans disinterest by…well… not doing anything remotely interesting. Unless, of course, you consider the Orioles and Pirates' two decade quest to find new and inventive ways to lose baseball games "remotely interesting."
In the last 15 years, who ever really cared about the Orioles or Pirates? Nobody, baby.
The Orioles and Pirates have had too many losing seasons and have burned way too many bridges! Their fans have been disinterested for far too long. These teams looked the other way while their fans jumped off the bandwagon in droves and did nothing about it. Nothing! They didn't put up a fight. They didn't bat an eye! So now the Orioles and Pirates are experiencing success and experts are surprised because no one really cares. "The Orioles are in second place and are likely headed for the playoffs! The Pirates are in line for their first winning season in 20 years! My goodness! Where are all the people?" Well, Sportscenter, you can find them at home watching Sullivan & Son or they're watching Phillies or Nationals' games on ESPN.
…and, if the Astros are, indeed, "years away" from competing, these examples should keep Jim Crane awake at night. The businessman in Nolan Ryan (who shall remain nameless) wants to dominate the market, collect all the fans, all of the bacon, all of the eggs and all of the money! He wants every baseball fan in Texas wearing a Rangers hat. And Astros fans are in denial if they believe that he doesn't have his sites set on crushing the Houston Astros. Nolan Ryan wants the Astros to be his Orioles and Pirates. …and, if Crane isn't smart and doesn't act fast, Nolan's dream could become a reality.
Jim Crane has no choice but to do whatever it takes to keep fans interested. His only mission during this "lull in success" is keeping fans coming to the game and keeping fans talking about the Houston Astros while preparing his organization for future success. Crane has to find the perfect balance between keeping fans interested and rebuilding a poorly run baseball franchise from the ground up. This is a delicate situation! This is brain surgery!As much as I hate it, he has to turn the Astros into more of a show and draw focus away from the Bad News Houston Astros. This means he has to continue to implement popular promotions like bobbleheads, retro nights and, yes, The Roger Clemens Show.
Come to think of it, this isn't brain surgery – this is Rocket science.  
Yes, boys and girls, Roger Clemens is nothing more than glorified come-to-life bobblehead.
Roger Clemens will not be signed because he'll keep the Astros from losing 100 games. He'll be signed because he'll bring 40,000 people into the stadium on nights that he pitches. Furthermore, I would be shocked if, in the event Clemens becomes an Astro, he makes a single start away from Minute Maid Park. He's a promotion in the flesh.
Roger Clemens is desperate for the Astros to massage his bruised ego, and the Astros are desperate for Roger Clemens to protect their floundering investment. The Astros must hang on to any shred of relevancy they can – and the same goes for Roger. Dignity be damned! This is a mutually beneficial and unapologetically dysfunctional case of legend/organization codependency.
If you're reading this blog, this should probably upset you. However, this is the cold harsh reality of the current Houston baseball climate. My suggestion: not just accept it, but embrace it and learn to love it. Because until our beleaguered ball club can pick themselves up off the mat, they're going to need to keep themselves somewhat relevant.
Think back to January when Jim Crane said, "Everything is on the table" and hinted at a possible name change. That wasn't a joke or some wacky marketing ploy as some people thought or would have you believe. Crane wasn't kidding or kicking tires or trying to deceive anyone. Crane is a smart businessman and knew exactly what he was up against when he purchased the Houston Astros. Everything is on the table because, as it stands now, everything has to be on the table.
Drayton McLane and Pam Gardener knew what they were up against, too. That's why they had absolutely no problem coddling Red Sox fans when they invaded Minute Maid Park in 2011. Of course, with the sale of the team imminent, McLane was likely squeezing as much blood from the Astros as he could without taking into account the long-term ramifications of devolving his fan-base into a bunch of wicked awesome Good Will Hunting watching, fist-bumping Chowderheads with southern drawls. But it's the same principle.
If Crane ever goes as low as McLane, then the Astros will have way bigger issues than an elderly Roger Clemens slowly scooting his way towards the bump mumbling incoherently about "Teddy Ballgame" while his home healthcare nurse follows behind lugging a giant oxygen tank. "No, Mr. Clemens, those aren't special commemorative baseballs, they're tennis balls that'll make your walker glide easier. Now finish your creamed-carrots so I can give you your medicine."
Astronerds, we need to face some facts, and we need to accept some truth. The organization isn't marketing to you and me. The Astros are marketing specifically to people who are jacked up about Roger Clemens possibly joining the Astros. They're marketing to people who are downright giddy about realignment because of "all of the awesome Yankees, Red Sox and Rangers games." They're marketing to people who are thrilled the hitting coach and first base coach were canned despite not having the foggiest as to their names. They're marketing to people who comment on every Astros story posted to The Houston Chronicle's website!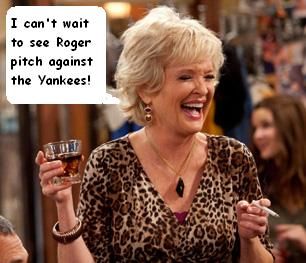 The Astros are fully aware that you and I will go to Astros games regardless of how crummy they're playing because they know we have a different understanding of how the Astros actually are and the direction they're going. They know we'll go anyway. They are taking us for granted - and rightfully so, they should take us for granted because we're too invested in our Astros fandom. We might get angry or whiney, but we're not going anywhere.
Instead of marketing to us, the Astros are marketing to people who see a bunch of nameless guys on a team careening down the path towards 100 losses that say to themselves, "I'm not going to the Astros game tonight, I'll stay home and watch Sullivan & Son… unless, of course, the Rangers are on." 
"You're half Korean and half white! Half of you SHOULD be angry! Wait, why am I explaining this to you? Half of you should understand!" said Kevin Arnold's father who now inexplicably stars in Sullivan & Son. ROTFLMAO! Comedy gold!
In a way, Roger possibly suiting up for the Astros is a good thing for the long-term success of the Houston Astros. If fans are coming to the ballpark and Jim Crane is cashing some checks, he'll be in better position to spend some more money on the team down the line. It is super important that the Astros remain relevant and continue to find creative ways to convince Houstonians to spend their money on this substandard baseball product.
This isn't about Roger Clemens or the 2012 Houston Astros. This is about building a baseball culture. This is about reintroducing fans to the Houston Astros – even if that means bringing Roger Clemens along to move it forward. This is about making money and setting our team up for long-term success. Roger Clemens, although a small part, could play a vital role in the Houston Astros' future. Clemens can be a crucial piece of the puzzle in reigniting some of the passion that has been sucked out of the organization over the last few years.
…and don't be shocked if there is some heavy over-the-top flirting between the Astros and Lance Berkman. Rumor has it, there is a DH position available and having Berkman back would certainly put some butts in some empty seats.
So, yes, I hope the Astros commence with the dog and pony show. I hope they never run out of creative ideas and wacky promotions to get people to see their historically bad product. I hope they sign Roger Clemens, and I hope the Astros sell out every start he makes. And I hope like hell that some kid walks out of the stadium that night and says, "Dad, I had a lot of fun! Let's go again tomorrow!"
———————————————————————————————————
You can follow me on Twitter! …but only if you want to.