The first time I ever felt old, I wasn't really all that old. It wasn't when I looked at the back of some random baseball card and noticed some random player was born in the decade before mine. What a surreal feeling at the age of 9! It wasn't the time that I realized there were guys my age playing professional sports. It wasn't when I decided to not to stay out all night or when I made my first big purchase or when I first started cooking dinner for myself.
The first time I ever felt old was when I realized that Craig Biggio was old. Although I will fight you to the death over the premise that he never became a liability, Biggio's production declined and his youthful exuberance had withered making him look tired and beaten. He looked beaten. I felt beaten. It saddened me. I was 7 or 8 when he broke in with the Astros… to be honest, I didn't remember a whole lot about the Astros without him in the picture.
I remember discussing this with a friend of mine who lives in a different city and roots for a different team. He reminded me how lucky I am to have been rooting for the same guys for 15 years. "Not all of us get to grow up (or grow old) with our favorite players. People change. Teams change. Cities change. Baseball changes." Deep.
The Houston Astros are changing.
Gone are the days where players stay forever. Gone are the days when you purchased a jersey with the understanding that you've made a solid long-term financial investment.
If you've been in a coma for the last two months, you might not recognize a single face when Opening Day arrives in 2012. Drayton McLane will hand the reins to Jim Crane. Tal Smith is likely gone, as is Ed Wade. Brad Mills may or may not be fired. The front office will get a massive facelift and, in that regard, change is sometimes a good thing.
We're not as attached to the front office as we are the players on the field… although I liked Drayton McLane and I've always thought Drayton McLane was, for the most part, a good owner, I'm not as sad to see him go as I was Michael Bourn or Hunter Pence.
Bourn was my favorite. To me, losing him took the hardest toll on me. He was a University of Houston alum and a graduate of Nimitz High School in Aldine. He has always been an outstanding defensive player and a huge stolen base threat, but recently his bat came along and he's blossomed into one of the premier centerfielders in all of baseball. He wears number 24 and bats leadoff for the Braves now.
Pence always gave it his all. Regardless of whether you think he was a smart baseball player or not, he always busted his ass and never took a play off. He appeared hopped up on Jolt Cola and his legs seemed to move independently, on their own and in different directions. He hits for average and provides adequate defense in rightfield. He wears number 3 and is the middle-of-the-order bat the Phillies said they desperately needed.
Immediately after the trades, I walked around my apartment singing along to "It's So Hard To Say Goodbye To Yesterday" by Boyz II Men… on repeat. I spent the next few days being sad. I spent it wallowing in self-pity. "This must be how the Cubs always feel," I thought. Unlovable losers. What a sad state of affairs. 
Losing Bourn was the toughest for me. I mean, this really took a toll on me. He was Houston through and through. He could have become a staple in the community like Biggio and Bagwell had become. Plus, Bourn, in my opinion, is a better player than Pence. He could have been one of the greats.
I was sad. But let's not confuse my sadness with anything else.
I wasn't angry.
I wasn't angry because I knew this was coming. I knew this was coming for a long time… since 2007. I wasn't quite sure who the players would be, but I knew then that the only way the Houston Astros could ever be revived, ironically enough, is if someone finally pulled the plug on them. Think back… now admit it, you knew this was coming, too. We all did.
The chickens are coming home to roost, Bobby Boucher. You'll reap the fruit of your selfish ways. You're gonna lose all your fancy foosball games, and you're gonna fail your big exam, because school is THE DEVIL!
The Astros made such terrible personnel decisions for such a long period of time. You reap what you sew. You get out what you put in. The love you take is equal to the love you make. We've made our bed! Astrogeddeon was a long time coming… the team has been gutted, players have moved on, management is changing hands and now we have nothing left except hope. Hell if there isn't hope.
Hope.
Hope because as I'm writing this, J.D. Martinez is rounding the bases after hitting his first MLB homerun. Hope because people are arguing over what Jose Altuve's nickname should be. Hope because Jarred Cosart pitched a 6 innings gem in his first appearance for Corpus Christi. Hope because Jonathan Singleton hit his first homerun (of many) for Lancaster.
Hope because Jordan Lyles is fresh off of his first MLB win… at 20, he's still the youngest guy in the majors. Consider this: of the 9 prospects the Astros received since July 19th, 8 of them are older than Jordan Lyles. At 19, only Jonathan Singleton is younger.
Hope because they just took a series against Cincinnati.
The Astros may or may not win another game for the rest of the season. But there is something the Astros have that they haven't had in four years…
Hope. 
Thumbing through Astros press releases, minor league blogs and some of my own assessments, we'll take a gander at some of the new guys the Astros have acquired in the last 3 trades.
On July 19th, the Astros traded Jeff Keppinger to the Giants for Jason Stoffel and Henry Sosa.
Jason Stoffel is a solidly built 22 year old closer with the Corpus Christi Hooks. The big righty, who broke Mark Melancon's all-time saves mark at University of Arizona, was a 4th round draft choice of the San Francisco Giants in 2009 and was ranked by Baseball America as their 22nd. Baseball America goes on to say that Stoffel "features a power slide and a low-90's fastball." They also note that Stoffel is "working on a changeup." Since acquired 2 weeks ago (as of August 3rd) Stoffel has accumulated 3 saves and has given up 2 earned runs in 6 games. Stoffel projects as a closer or as a set-up man at the major league level.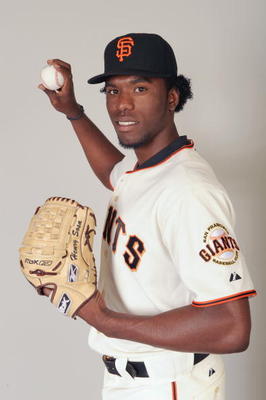 Henry Sosa has joined Stoffel in the Hooks pitching staff. Sosa is a few years removed from being considered one of San Francisco's top prospects but injuries in 2008 and 2009 derailed his career and his stock plummeted since. However, in his brief time with Corpus Christi, he has gone 2-0 with 16 strikeouts in 3 games. Although in his last start, he got blasted by Midland to the tune of 6 runs in 4.2 innings, he's still sporting a 2.89 ERA and likely in line for a promotion to Oklahoma City. Sosa is a hard throwing righty who consistently touches mid-90's. He was ranked by Baseball America as the 29th best prospect in the Giants organization at the time of the trade. I believe Wade sees Sosa as a reclamation project that can prove to be very beneficial if he can regain form from his earlier days in the San Francisco organization. He's likely to compete for a spot in the 2012 Astros rotation. 
Overall, this trade could turn out to be a huge win for the Astros if Stoffel stays on course and if Happy Hooton can salvage the career of Henry Sosa. I'm sure this trade was centered around Stoffel and the Astros felt that Sosa was a low risk/high reward type player who could benefit from a change of scenery. Sometimes having a different person explain things can do wonders for a guy who just can't seem to put it together… hopefully Sosa can.
On July 30th, the Astros traded Hunter Pence to the Philadelphia Phillies for Jonathan Singleton, Jarred Cosart, Josh Zeid and a player to be named later.
Big lefty, Jonathan Singleton is a 19 year old first baseman who recently hit his 1st homerun for the Lancaster Jethawks. After being selected in the 8th round of the 2009 draft, he withdrew his commitment to Long Beach State and signed with the Phillies. Being blocked by one of the games premier power bats, Ryan Howard, Singleton has been the focus of many trade rumors since his arrival, notably for Astros fans, he was a rumored target for Houston in the Oswalt deal in 2010. In 2009, as a high school senior, he blasted 4 balls into the upper deck of the Metrodome en route to winning the Rawlings Home Run Challenge at PG National. Last year, with the Phillies single A affiliate in Lakewood, he hit 14 homeruns and notched 77 RBIs. Also last year, not only was Singleton the youngest player in the Sally League, but the big lefty was also selected as the Sally League's Most Outstanding Prospect. Singleton is the power bat the Astros have so desperately needed for a long time. Baseball America has rated Singleton the 30th best prospect in baseball and the Phillies top prospect. Baseball America goes on to say that "he has an uncanny balance and rhythm at the plate as was pitch recognition… has a simple, compact swing with strong arms and easy, plus raw power… could be ready for the big leagues by 2013… is a solid defender at first."
His hitting coach at Lakewood, Greg Ladd, said, "For 18 years old he sees the ball way beyond those years. You've probably seen him already laying off changeups. He doesn't waste at-bats. I'm not tinkering with him."
At 6'2" and 215lbs, Singleton is already a decently sized fellow. In a few videos of him, he looks like he might trim a little baby fat and put on some muscle by the time he makes it to the majors… he still looks like a kid, which is good, because he's only 19. By no stretch of the imagination am I implying that Singleton is out of shape, but a man doesn't really stop growing until 25, so he might put on some weight/muscle and fill out a little more over the next few years.
The plan seems to be to move Singleton back to first base after a failed attempt to place him in the outfield. Phuturephillies hypothesizes that he was moved back to 1st base because of injury concerns with his ankle. With the Astros concerns regarding Wallace and Lee's contract expiring at the end of 2012, there is a very realistic possibility that Baseball America's prediction of being MLB ready by 2013 may come to fruition. …but, as of now, he's 19 (will be 20 in September) so I think it would be wise to leave the Ryan Howard comparisons at the door!
Jared Cosart is a hard throwing right-handed pitcher from Texas. What more could we ask for? To be more precise, Cosart is from League City, which is a stones throw from Houston. The 21 year old is currently assigned to Corpus Christi and made his first start the other night. Cosart allowed only 2 hits in 6 innings pitched in his Astros organization debut. Rated by Baseball America as the Phillies' 4th best prospect, they go on to say, "Tall and lean, scouts say he has one of the most electric arms in the minor leagues…fastball sits in the upper 90s with good life…has a solid curveball and changeup with command advanced for his age and lively stuff…has the potential to be a No. 1 starter or closer."
I have absolutely no valid information supporting this, but I don't believe for a second the Astros have any inclination to convert Cosart into a closer. If anything, the Astros will attempt to polish his delivery and get him to the majors to start along side Lyles and Keuchel in the near future… possibly late 2012 or Opening Day 2013.
Cosart seems to be a bit more projectable, body-wise, than Singleton. By projectable, I mean Cosart seems like he'll get a lot bigger whereas Singleton looks to get a little bigger. Cosart, while not freakishly tall, has a decent sized frame but only carries 180lbs. I also like the fact that Cosart seems very thrilled to have been traded to the Astros. Being a resident, he gladly admits his allegiance to the Rockets "good or bad." And being a fan of the Houston Texans "good or bad." I really like this kid and I believe he can rocket up through the system.
Josh Zeid is a big right-handed reliever who is currently assigned to Corpus Christi. At 6'4" and 225lbs, the Tulane product, is a heady pitcher who thrives on making his pitches rather than blowing the ball past hitters. Although, by the looks of him, you'd think he was the fireballer. Zeid is a pretty solid looking fellow. While he doesn't project as a closer or set-up man, he should be able to find his niche in the bullpen at the major league level. Perhaps the Astros will convert him to a starter. He strikes me as a guy who may have a similar career path as Chris Sampson, maybe someone who isn't quite a full-time reliever and isn't quite a full-time starter. Zeid looks like a tweener. I think it is a good possibility he'll be doing both while in the minor leagues. Of course, with the turnover the Astros have had in the last few weeks, I wouldn't rule out a trip to Houston in the very near future. Baseball America rated him as the 23 best prospect in the Phillies organization. They say he "has an above average slider and a solid changeup."
On July 31st, the Astros traded Michael Bourn to the Braves for Jordan Schafer, Brett Oberholtzer, Paul Clemens and Juan Abreu.
There was a time when Jordan Schafer was rated as the top prospect in the Braves organization. At 24 years old, he isn't far removed from that distinction. While coming up with the Braves, he was touted as a legitimate 5-tool player. Mind you, this is a Braves farm system that has produced Jason Heyward and Freddie Freeman in the last year and, allegedly, has 4 minor league pitchers who are "untouchable." Schafer lit up the minor leagues in his first few years of professional baseball but then, like Henry Sosa, caught the injury bug. Since suffering (and hiding) a major hand/wrist injury in his 4th professional game, Schafer has not been the same. While some have attributed his decreasing power numbers to getting popped for HGH, people close to the situation claim it has more to do with his wrist injury rather than his banned substance use.
Speaking with Mac Thompson, who writes a Braves blog, he explained to me that Jordan Schafer has had "a long history of acting like a jerk and making public statements that were almost Charlie Sheen-like in their obsession with a personal awesomeness that was at best not proven.  This year, at least since coming up to the majors, Schafer has not done that but has acted like a grownup role player.  His teammates seemed sorry to see him go." Also like Sosa, a change of scenery might be a blessing for Schafer. Although I cannot see him pulling any crap around Chipper Jones or Bobby Cox… maybe coming to Houston will help expedite the maturation process for Schafer.

Schafer is a speed demon, while his speed is still considered second-class to Millisecond Mike Bourn, he should be an adequate ballhawk in the spacious Minute Maid Park outfield.  Here's hoping it works out for him.
Here's a very encouraging article written about Jordan Schafer last December.
Brett Oberholtzer should probably be considered the best pitcher obtained in the Bourn deal. The 22 year old southpaw is currently assigned to Corpus Christi. Drafted in the 8th round out of Seminole Community College in Florida, Oberholtzer was ranked as the number 9 prospect in the Braves farm system by Baseball America. Baseball America goes on to say the "big lefty has plus command of three pitches… fastball sits in the low-90s and has tailing life… has a solid changeup which he can throw in any count… his herky-jerk mechanics create deception and he's aggressive and can throw to both sides of the plate… he's an excellent athlete and fields his position well… a potential third or fourth starter in the bigs."
At 6'2" and 230lbs, Oberholtzer has a solid body and shows signs of being an innings eater. Oberholtzer is a polished pitcher who should make the move to Oklahoma City sooner rather than later.
Paul Clemens is a lanky right handed pitcher who can really bring it. Like Oberholtzer, Clemens was an All-Star for the Braves' Mississippi AA affiliate. Also like Oberholtzer, Sosa and Cosart, Clemens will join the starting rotation for Corpus Christi, but might be in line for a promotion if he can rein in some of his wildness. From South Carolina by way of Louisburg Community College in North Carolina, Clemens was a 7th round selection by the Braves and, at the time of the trade, was rated as the 26th best prospect in their organization by Baseball America. Baseball America goes on to note that Clemens "has as much raw ability as any pitcher in the Braves organization… when he's on, he can run it up to 97 mph with an above-average curveball… is athletic and he should end up as a middle of the rotation starter or useful reliever." More than any other assessment on the Astros new prospects, this entry by Baseball America has me the most intrigued.
The Braves have uber-prospects Julio Teheran, Randall Delgado, Mike Minor and Arodys Vizcaino, yet Paul Clemens "has as much raw ability as any pitcher in the Braves organization." "Braves organization" they said… that has to include guys in the majors, too, right? Like Tommy Hanson, Craig Kimbrel and Jair Jurrjens? That's a truly exciting statement if Clemens can eventually put it all together. The 6'4", 180lbs, Paul Clemens is not nearly as polished as Oberholtzer, but I would say his ceiling is higher. Clemens is definitely someone to pay attention to.
I have a hunch that Juan Abreu will be in an Astros uniform before the end of the month. Abreu is a solid reliever who can touch the high 90's. The Astros bullpen has more problems than the Jackson 5. Abreu is 26 years old and is 6'0" and 185lbs. In his 6 years of professional baseball, this is Abreu's 3rd organization and has yet to obtain any major league service time. At AAA Gwinnett, he sported a 2.25 ERA in 48 innings pitcher. He also had 68 strikes, so he does appear to be overmatching hitters at times. Abreu, like Zeid, should be considered a valuable player, but he's more of a piece of the puzzle rather the whole solution to a bigger problem. He's a nice addition to the club, but certainly not in the Singleton, Cosart or Oberholtzer zipcode.
At the time of the trade, Baseball America ranked Abreu as the Braves 27th best prospect. They go on to say "Fastball sits at 95-96 and has been clocked up to 99mph with a whip-like delivery… 80mph curveball is a plus pitch… he's a potential set-up man and a spot closer if it all comes together." Abreu appears to be the most major league ready of all the prospects acquired (other than Schafer), so I imagine he'll be in Houston as soon as the next bullpen guy falters.
Hope.
There is a lot to look forward to in the next year or two. As much as I hate to say it, I don't think we should get caught up in wins and losses, but rather watching these guys grow into major leaguers.
We've got hope… now it is time to sit back and watch. This is baseball. This is fun.