Out of suffering have emerged the strongest souls; the most massive characters are seared with scars. – Kahlil Gibran
Waiting on the baseball season is much akin to waiting on a freight train. From miles away, the howls of the whistles wail into the city, echoing off the sides of our bustling commerce buildings and resonating through the walls of neighborhood homes. We hear the whistle well before the traffic lights flash red. We hear the whistle well before the dishes rattle, well before the picture frames rumble. Boisterous and proud, it is a distant alarm, screaming obstreperously; issuing a warning of the freight train's imminent existence and its uncontested power.
And we wait.
And we wait longer.
The rattling gets louder, the rumbling gets louder, and the traffic lights flash red. With a brief procession of rhythmic thumps, the freight train races through town and then it is gone. No more rattling, no more rumbling and no more whistle.
After all the build up, it's gone – and then off in the distant, miles away, you hear another feint whistle.  
It seemed as though we spent an eternity waiting for the baseball season – and, now, as we close the book on August, the baseball season is almost gone.
This time of year is particularly bittersweet in Houston. While baseball at its core is enjoyable and very much alive, Astros fans have collectively hoisted the white flag of surrender, conceding the fight for this season and subsequently investigating quicker ways to coax the remainder of this year towards the cold rope of winter's gallows.
While watching the game on television or listening to it on the radio still outweighs our desire to do yard work, Astros fans now gaze upon their lawn mowers with a sense of security and reliance, a scrap of stability within the solid frame with cold deadly blades. Baseball is still better than getting off the couch and doing actually work… but barely. 
Defeated? Yes.
Indeed, this summer has been a series of sequential gut-punches and follow-up slobber-knockers. And after another brutal summer, Astros fans once again find themselves flopping around like Trevor Berbick after a Mike Tyson combo. While the oft-tormented fan base is left to lick their wounds and remember the good times, still in the back of their minds, they wonder if there is an actual method to the madness or whether a capricious Jeff Luhnow has a debauched affinity for watching this tortured fan base suffer.  
Look closer; there is a specific method to Luhnow's madness. There is a plan, a strategy
There is a process.
We've heard this administration talk about "the process" since they took the reigns of this organization in 2011. We've seen coaches and players wear shirts with the "PROCESS" boldly emblazoned across the chest, we've read the inspirational messages plastered along the walls in the locker room and we've heard stories about a fabled Wheel of Astros Fortune. We keep being told there is a process.
But what exactly is the process?
A process is the defined way of doing the tasks needed in order to achieve your goals.
Obviously there are several processes that the Astros employ – they have a standard, which they demand from their players, and they have an organizational process that they're adhering to themselves… which is the focus of this blog entry.
The Astros organizational process seems to dictate a very cumbersome, a very excruciating, and an, albeit, very delicate, teardown married to a very deliberate rebuild of the entire organization. The process requires that the organization develop the assets yielded from the teardown in order to build a championship caliber team. In other words, they're tearing the whole thing down in order to rebuild it "the right way," their way.  
This is a complete turnaround, an about-face from the scorched Earth methodology foolishly championed by the previous regime.
Assuming the current state of the team is completely "torn down," it would make sense that the Astros are currently knee-deep in the rebuilding phase and very close to the part of the process where they harvest the championship caliber team they've planted over the last few years.  
Even though the team looks cold, dead and long buried, those within the organization feel quite comfortable with how their plans are unfolding. There is a quiet confidence, a cocksure aura surrounding the organization. There is a recognizable swagger, a distinguishable air of defiant insouciance in regards to the Astros pitiful record. They understand that right now things appear to be bleak, but upon further examination, everything is going according to their strategy.
…It's all a part of the process.
As a whole, fans thought (at least hoped) the Astros would be a tad more competitive than what they were last year… at least with the dregs of Major League Baseball. I assumed that perhaps they'd out-battle the other bottom-dwellers to stay moderately buoyant, avoiding a predictable whisking away by the violent floodwaters of last place.
But – no, the rushing waters of inexperience proved to be too strong and has bowled them over and pulled them under. The now sunken Astros are head and shoulders worse than any team in the league. They're drowning in a thunderstorm of their own creation; they're the undisputed worst team in baseball. 
…And the September forecast is calling for another series of torrential downpours with flash flood warnings.
Yes, the Astros record is utterly embarrassing. They're flailing, and like the previous two years, they're taking a massive nosedive towards the first overall pick in the 2014 draft. Recently, their play has shown morsels of potential but overall has the same appeal of Amanda Bynes at a job interview. The Astros offense is an unfortunate coexistence of inconsistent sparks of excitement consistently snuffed out under the perverted boot of missed opportunities. Indeed, the Astros live in a world where no runner is truly ever in scoring position. The offense is a creative assortment of not-so near misses, a catalogue of exasperating double plays and strikeouts – an outrageously twisted comedy of newfound follies inducing fans to detonate f-bombs, Jägerbombs and I just want to be left alone and cry bombs.
And, yes, the bullpen is awful – where do I even start? The Astros bullpen has been called everything but competent or efficient. They are the "Trifecta of Horror," which sounds like a riveting title for a Freddy Krueger movie. Some have playfully (yet accurately) called the bullpen the "Bermuda Triangle" on account of the team's most mysterious and suspicious losses. Meanwhile, according to Brian Smith, Bo Porter has called the bullpen "a major concern." In Porter's defense, I imagine Smith took some literary liberty of amending Porter's actual quote which was likely "our f*cking bullpen is a major f*cking concern right now, Brian."
Yet multiple sources are reporting that Bo Porter doesn't cuss.
Enter Josh Zeid, Chia-Jen Lo, Kevin Chapman and David Martinez.
Perhaps these minor league reinforcements will bolster this pen as the Astros shuffle through pitchers faster than Matt Garza can locate your wife's Twitter account.
As was the case in 2011 and 2012, this year once again, the Astros are a tick below terrible.
This is a part of the process?
After a series of frustrating losses, I looked to the Book of Job for answers. Immediately, I decided that I couldn't quote the Bible and use "fresh cat-turd" in the same blog entry, so I recalled Neil Simon's play God's Favorite – which is based loosely on the Book of Job and "loosely" is good enough for my blog or any hopes that I may have in any sort of spiritual salvation. In the comedy, a messenger from God named Sidney Lipton (an angel) visits a wealthy businessman named Joe Benjamin. Sidney tells Joe that he is "God's favorite" and that God and Satan had made a bet whether or not he would renounce God under certain conditions. Hilarity ensues. Satan ends up screwing Joe to pieces by systematically destroying his life – but Joe stays strong, and he keeps his commitment to God, even though his life is in complete shambles.
Is this fresh cat-turd of a season a part of the process? As Astros fans, is this process testing our faith in our team? Are we Job? Are we Joe Benjamin? Are we Hector Ambriz? Are the Baseball Gods piling onto us to test our commitment to the process?
But, amid the storm, there will be an air of calmness, the lightning and thunder will eventually subside, the floodwaters stall and dry – the worst part of the process is almost over. And soon, the roles will reverse, and we'll be the ones inflicting the pain while other fan bases flop around like beaten-up and bloodied Trevor Berbick.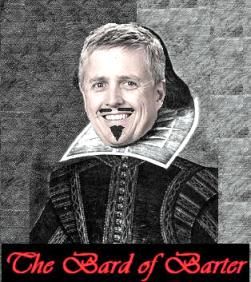 In keeping with the theatrical theme, if Shakespeare were a baseball fan, he might suggest that some teams are born with the first overall pick, some teams achieve the first overall pick and some teams have the first overall pick thrust upon them.
And, sadly, the Astros are playing all three parts.
There has been a lot of speculation that the Astros are intentionally putting themselves in this situation because they want the first overall pick in 2014. The Münchausen-Rodon Syndrome, as I like to call it. However, the Astros were accused of experiencing similar symptoms in 2011 and 2012 season too. I believe that theory is drenched in naivety, a severe misdiagnosis – I firmly believe the Astros have a philosophy on how they want to conduct business, and they're sticking to it. They're not intentionally trying to be the worst team in baseball – they're just refusing to cut corners or shield wounds with cheap bandages. And because they're not going to cut corners, being the worst team in baseball has sort of thrust itself upon the Astros.
The Astros are not concerned with hindering the organization's development or going astray from their process for the sake of immediate meaningless success. If they win 50 or win 70, that part of the process simply isn't by design – they are where they are at the moment, and they're not going to barter long-term success for ineffective quick fixes. They're trying not to lose, but they're not going to combat losing with hollow counterproductive transactions. Their definition of success is building a long-term winning operation that feeds itself rather than relying on signing aging veterans or trading valuable assets in order to appease an annoyed fan-base and an unimpressed media.
The Astros blatant refusal to acquiesce to national expectations has cast the Astros in a villainous role in the first act of this American League drama. The Astros refusal to irresponsibly spend money like "drunken sailors" is regarded as an integrity issue while ignoring the understanding that the team is holding itself accountable to its own process. While Alex Rodriguez remains embroiled in controversy and is staring down the double barrel of being 38 and an imminent full-season suspension, "experts" foolishly have pointed out how he earns more money than the entire Houston Astros organization. …as if the Astros would be better off paying A-Rod $28M to underperform in 50 games? While the process lends itself to jokes and misdirected pundit-fueled vitriol, the second act of this play will feature a juicy plot-twist as the Astros are revealed as the unlikely hero and the star of the show.
As of now, there are 14 rookies on the 25-man roster – that is 56% of their roster. They are, by far, the youngest team in Major League Baseball. Lo and Zeid, two of the more recent rookie call-ups, are actually older than the average age of the club. With Erik Bedard clearing waivers, Wade LeBlanc being designated for assignment and Philip Humber twisting in the wind, the Astros have the potential to be even younger once September arrives.
The Astros have shown that they can be both liberal and stubborn with their minor league promotions, however, they remain confidently deliberate and above extraneous outside input. They've promoted Max Stassi, David Martinez and Lo directly from Corpus Christi while passing on Oklahoma City's Carlos Perez, Asher Wojciechowski and Jason Stoffel. They've given LeBlanc and Humber two shots at the Major League level. They've been stubborn with George Springer. They promoted Jarred Cosart to start against Tampa Bay, demoted him and then promoted him shortly thereafter.
Why would they promote Stassi and not Perez? Why would they continue to trot out Humber and LeBlanc while passing on Stoffel? Springer is gunning for a 40/40 season in a split AA/AAA season – what more does he need to prove at the minor league level?

It is confusing. It is frustrating.
But there is a reason – whatever that may be.
This is part of the process.
The exact particulars of this process may never be known. Perhaps one day, Jeff Luhnow will write a tell-all book and discuss, in detail, the hows and whys of his tenure as the Astros' general manager. Maybe he'll share the reasoning behind the mélange of curious transactions… or maybe not. His regime has an obvious amusing regard for theatrics as they employ a deliciously frustrating, but calculated, transparent/opaque philosophy of doling out "privileged" information. Jeff Luhnow will show a few cards in his hand, but he will not tip whether he has a royal flush or is bluffing.
This organization is a Bob Ross painting. This organization is a spy novel. This organization is a Christmas present from your Aunt Nancy. This organization is comedy, drama, mystery tightly rolled up in a burrito of absurdity.
…and 100 losses hurt.

It hurts. It's agonizing and embarrassing. 
But don't lose sight; there is a process.
The freight train that carries the failures and foibles of the 2013 season is rumbling out of town (hopefully on its way to Dallas). And with it, we're left with memories of an Astros' season that will be decisively absent of remorse or regret. We'll remember it as a season of frustrating growth, morsels of potential, excitement snuffed out under the perverted boot of missed opportunities. But it is all a part of the process. And we must trust the process and take some solace in knowing that some