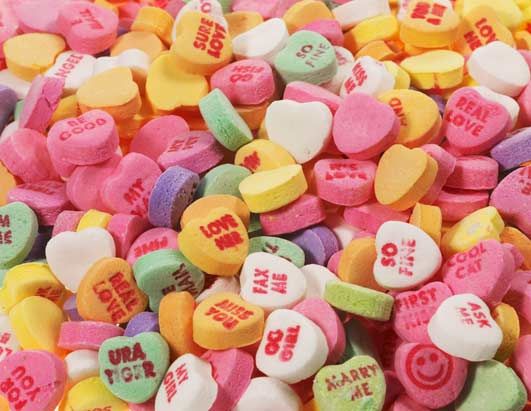 Lately, I've been fighting these emotions… these overwhelming feelings, I blame it on my elevated levels of machismo, but I've got a lot on my mind. And, this being Valentines Day, I just wanted to say a few words to some of my followers… particularly, all the pretty ladies. I'm talking to you. This one goes out to all the girls out there. All the girls who root for the Astros and read my blog. I see you, baby. This blog entry goes out to you.
…and only you.
Girl, I've been thinking about you for a while. I see you over there… all sexy looking. Mmmm… I know the baseball season is about to start and you might not be hearin' a lot from me… but, girl, mmmm, yeah…. I just want you to know, that, this year is the year, our year, if you will… mmm… me, you and the Houston Astros. Oh yeah. This is the year that the Astros will finally go to the World Series. We'll be on top! So, while I am sitting in front of my television and I seem to be ignoring you while you're talking about your feelings or what happened on Pretty Little Liars or that slut Becky you work with… mmm, girl…  I just want you to know, that Jose Altuve has a legitimate shot at leading the league in doubles this year. And, girl, that's what really matters - Jose Altuve racking up doubles. Mmm… What's that, baby? Yeah… well… you're the finest Astros fan in the world and, girl, there is one thing I wanna do with you. And, I've been wanting to do it to you for a long, long time. You ready, girl?
This poem is called…
WE'D WATCH THE ASTROS ON VALENTINE'S DAY
I'll be relaxed on my couch, my big screen on Comcast Sports,
Wearing nothing but my Astros jersey and a pair of high school gym shorts,
My left hand's digging in some Doritos, the right is holdin' onto a beer,
I'm drinkin' 'cause they're losing, but, girl, you make me want stand up and cheer,
'cause you're prancing in our livingroom and I know it's time to get it on,
We're gonna watch replays of the playoff year - until the break of dawn,
I'll be your Jeff Bagwell, girl, you wanna be my Biggio?
I take you 'round the bases, run my hands all through your fro,
I've been wanting this for along time, there's only one thing I wanna do,
This Valentine's Day, baby, I wanna watch the Houston Astros with you.
It'll be like oh oh ohhhh… it's a replay, it's not live,
And a oh oh ohhh… girl, it's like 2005
And a oh oh ohhh… if I could have it my own way
Oh oh oh… girl, we'd watch the Astros on Valentine's Day. 
I can see you really want this, girl, ya know I've been wanting this, too.
Dressed sexy in your Astros gear, the Altuve jersey I bought you,
You're looking so hot right now, but I can't take my eye off this game,
If you keep talking over Brownie and Ash, girl, I just might go insane.
My Doritos chips are getting smaller and my beer can is getting light,
If the Astros start winning, girl, and we'll be watching this all night.
And when we wake up in the morning after our Astros Valentine's Day,
I hope you make me some eggs and we can sit back and watch the replay. 
It'll be like oh oh ohhhh… it's a replay, it's not live,
And a oh oh ohhh… girl, it's like 2005
And a oh oh ohhh… if I could have it my own way
Oh oh oh… girl, we'd watch the Astros on Valentine's Day.
Oh oh, girl, They'll be rounding the bases
Oh oh, girl, we'll be making Astro-oh oh ohhh faces.
But this was just a dream, the Astros season has yet to start,
These fantasies about winter baseball is playing extra inning games with my heart,
And, girl, if you love me, I think you should understand,
That while I'm your biggest cheerleader, baby, I'm way more of an Astros fan.
So, flip on the television and let's not stop it until we're through,
This Valentine's Day, I wanna oh oh ohhhh… watch the Houston Astros with you. 
It'll be like oh oh ohhhh… it's a replay, it's not live,
And a oh oh ohhh… girl, it's like 2005
And a oh oh ohhh… if I could have it my own way
Oh oh oh… girl, we'd watch the Astros on Valentine's Day.
The end.
Oh yeah… mmm… before there's any discussion or debate amongst the sexy ladies out there about who this poem is really about, I gotta be honest, ladies… it's about all of you. …each and every sexy lady out there.
There's Jayne… mmm… from What the Heck, Bobby. She writes about Astros prospects. Well, girl, I gotta special 'prospect' for you… how about you, me, a Jacuzzi and an updated version of the Astros top prospect list? We can talk dirty to each other by saying words like Foltynewicz and Wojciechowski. Yeah? That's right, girl, I wanna Wojciechowski you.  Mmmm…
Then there is Terri. Terri writes about the Astros… but, she also writes about food. Tales from the Juice Box is the name of her blog… mmm. I gotta say, girl, you look more luscious than a plate of barbecue brisket with a side of potato salad. I like your blog's dinner discussions, but, I say, let's (you and me) have a few discussions over dinner… oh yeah. I'll tell you about this new recipe that I got… it's for an Astros All-Night Passion Cake. Interested? It includes a dash of me and a dollop of you and then a whole bunch of passion… and some cake… and the Astros.
There's Camille, she doesn't write for a blog, but she retweets me… over and over again. All night. I like it, girl. You can retweet me and I can retweet you. We can favorite each other's tweets… and it'll be magical, sexual and sensual. Let's listen to a mix tape full of our favorite Lil Rhiner songs. You're always lookin' finer than frog hair. 
Oh, yeah, Alyson Footer… she is the sassiest and sauciest hot mama in baseball. Girl, when you left, you broke my heart. All I ever wanted to be was your Brad Ausmus boy toy. Sometimes, I wake up and I scream your name. But, girl, I know you left for greener grass… but I just want you to know, girl, my bed is cold at night and I miss you. P.S. Thanks for mentioning my #AstrosMovie tweets in your blog… that was pretty awesome, girl.
There's DeAnna, can't forget about her… girl, you tweeted about the Westminster Dog Show and I don't know what that was all about. Well, baby, I don't know much about dog shows (or dogs for that matter), but I do know that you're one smokin' hot babe and you have my tail wagging at full speed. If you were locked in the pound, I'd come get you out 'fore they euthanized you… and we could go to the dog park and I would let you sniff my butt.
There's the Aldermans… there's like 3 or 4 of you, I can't keep up… I think y'all are sisters or maybe there's a mom mixed in there or whatever… that's way too much for one Astros fan to handle. But, I'll be honest, like the 2013 Astros, I'm up for the challenge. Is Cheryl Faulkner a long lost Alderman sister, too? She's been commenting on our tweets and that's totally hot. I'm #BachShitCray over you ladies. 
Kelly George… Kelly George… you got me acting like Curious George. You're the new Astros social media director. I think you were Miss Alabama or something at one point… but, as of now, you're the smokin' hot Miss Astros Lady. Miss Astros Lady? That sounds dumb, but I swear, girl, that was a compliment. And, you're a total babe. And, as the social media director, I want to socially direct you straight to my heart. It is full of Lipitor and bacon grease, but under that slippery layer of fat is an Astros fan that really wants to answer all of your trivia questions.
And, mmm, then there is Orbit. Mmmm, I'm not sure if you're a man or a woman or what… and, quite honestly, I really don't care. You ooze sexuality that transcends gender or universally accepted ideas of attractiveness. The things I want to do to you are likely not legal on this planet… or most planets… except Uranus, it is definitely legal on Uranus. (And, yes, that was a double entendre.) Anyway, I just think you have a big ol' fat butt, and, Orbit, I'm really, really into that… However, I'm not really into the extra-terrestrials, though.  …but then again, I've never really gotten it on with one. But, you know what they say, "Once you go green, it'll be hard to ever get clean… 'cause we'll be dirty." Mmmm…
And, lastly, there's my girl… my real one. She's on the top of my list… sure, she understands that I'm a stallion that cannot be wrangled. But, she was willing to try. …and that's all I ask of her and the Houston Astros. She bought a Kevin Bass jersey and she is the arm candy at every single baseball game I go to. She's my number one. The love of my life. She's my Chris Burke homerun. She's my manager, she's my ace and she's my all-star. She's the Biggio to my Bagwell. I love you, girl.