When I was a school-aged chap, the worst and most agonizing days were the days leading up to Christmas vacation. These days were soaked with unbridled anticipation and excitement. The clock ticked slowly, the calendar wouldn't budge and we were resigned to our perilous fate – we would be stuck in school forever. Like hostages, we were trapped in classroom torture-cells, duct taped to our chairs; we were slaves to barbaric whims and desires of our unrelenting violent schoolmarm dungeon-masters.
"Fun crushers! Joy robbers! Thieves of happiness!" we cried!
Yet like hardened soldiers, we bravely slogged forward. We grinded through tedious book reports, tedious mathematical equations (work shown, mind you) and tedious science projects… with brains melted, hands callused, our desire to survive… eh… about 50/50. 
"How many baking soda volcanoes must I build, you sadistic bastards?" we cried!
It was painful. It was painful because Christmas was right around the corner. It was so close that we could smell it! It smelled like cookies and Christmas trees.
If we could handle this week, next week would be so much better. The finish line! The light at the end of the tunnel!
This week was painful.
Next week was Christmas.
"You can never break me! We will march till Christmas! We will not be defeated!" we cried!
This is exactly where we are in relation to the baseball season. We're on the homestretch, but it is still too far away from being anything other than painful.
But will the pain go away once the season starts?
After a tumultuous off-season that included realignment and across-the-board torrential mass defections, Astros fans are left to clean, bandage and tend to their own wounds with the hopeful acceptance (though with a hint of reluctance) that each mark, each permanent scar serves a higher purpose. These scars represent the conflict, the moral struggle to remain loyal to our Astros through the better, the worse, the richer, the poorer, and through sickness and in health. We hope that eventually the mountaintop will be worth the struggle, the heartache and the scars.
For our team's good.
The baseball season is upon us, the winter is over, and a new chapter in our Astros history commences – now it is time for our team to pick itself up off the floor.
The pain will go away once the season starts.
Now is the time to heal.
But, truth be told, 2013 could be another long season for our Astros.
But exactly how bad are they?
Will the Astros be the worst team in Major League Baseball? …again?
This guy thinks so. So does Ken Rosenthal. And, so does this douche.
(By the way, Rosenthal, the only way the Astros "will not survive the AL West" is if they get lost somewhere in downtown Oakland between the stadium and their hotel. "Survive?" What the hell does that even mean?)
We know that with the baseball season comes a heaping helping of unrealistic hopes and unreasonable expectations. As we chug down that cold February homestretch and into the burning hot April baseball season, these hopes and expectations are being irresponsibly wielded about like the loose and floppy boobies of a redheaded Pasadena roadhouse bar wench.
"The worst team ever! 150 losses! I'm calling it!"
"Eh, maybe the make the playoffs."
It is really difficult to gauge how the Astros' season will unfold, as there are a myriad of unknowns going into this season - more so than any other season that I can recall. They're moving into a new league, and they have a new manager with new philosophies. They have a DH now and several new players. They have all new competition.
Regardless of how they finish, it is incredibly important for this organization to show the fans (not to mention themselves) that they're legitimately serious about bringing respectability back to this franchise. This is the proving ground. The Astros need to make an honest effort from an organizational standpoint to show that they're committed to winning. This means they're going to need to be competitive throughout the season; they're going to need to be better than they were last year – this isn't asking much, this is a task they can (and should) accomplish. 
The Astros need to show improvement, progress and some recognizable signs of life. They should be desperate to show that their brand is worth salvaging and that, despite their long history of irresponsible transgressions, they're worth Houston's time and money. They need to build and they need to develop, they need pay into the equity the previous regime foolishly fumbled away.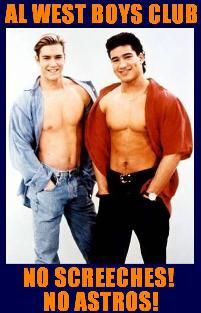 For our team's good, it is crucial that the Astros change their culture and attitude - immediately. They must reverse their own fortune and refute the laughingstock label that the rest of the baseball community has bestowed upon them. The Astros are an organization of Screeches competing in a Zack Morris and A.C. Slater world. …and, if you're unaware how Saved By The Bell turned out, Morris got a job on a hit TNT show, Slater is the host of Extra and Screech is doing low-budget porn and hiding crystal meth in the dashboard of his '92 Ford Tempo. …this does not bode well for the Astros.
With the designation of being the worst team in baseball last year, the Astros have earned the first pick in the first year player draft for the second year in a row. Some would suggest that earning the first pick has its advantages. You know, losing for our team's good. It means that your team gets the luxury of choosing the top draft eligible player in the country, but it also means that every single team in the league is better than yours.
…like the Cubs.
And, in Screech Powers terms, looking up at the Cubs is the equivalent to walking in on Violet Anne Bickerstaff performing a sex act on Mr. Belding after scorching your eyebrows off using a Bunsen burner.
There is a growing contingency of Astros fans that are actively rooting for the Astros to obtain the first pick in next year's draft. In other words, they're rooting for the Astros to have the worst record in baseball… for the third year in a row… for our team's good. As someone who has devoutly followed the team for as long as I have, I cannot stomach another season of 100 losses.  There are few things I hate worse than losing. My God, I really hate losing.
And shame on those people for loving it.
My opinion is that the toxicity of a losing environment significantly outweighs and overwhelms the benefits of losing in order to acquire a higher draft pick. One of guys who follows me on Twitter, ZachMayer14, put it rather eloquently "The draft is a consolation prize for losing, it is not a reward."
Losing hurts.
Losing should hurt.
Losing is a disease hard to cure… and it is contagious, it spreads like wildfire and gets in your blood. It is a stench you cannot wash off. And, worse, when you build a culture content with losing and when you accept that you're going to lose, you're going to act like a loser, you're going to treat yourself like a loser and you're going to do the things that losers do. Before you know it, you've bought into a self-fulfilling prophecy, and you've dug yourself a hole that you may never get out of.
Ask the Royals or Pirates about how hard it is to shake a losing culture.
And some fans are willing to take the gamble? Some fans are hoping the Astros finish with the worst record in baseball for a better draft pick? This is for our team's good?
Simply put: this organization cannot afford to tank baseball games – not from a marketing standpoint, not from a player development standpoint and not for the good of our franchise. 
What does losing mean from a marketing standpoint? It means 2013 will be another year where more fans defect to Dallas or decide not to give a damn about the Astros. James from Astros County put the collective fears of many Astros fans into a single tweet. "Houston's front office is either going to look like revolutionary geniuses, or the reason my kid doesn't like the Astros."
Fans are tired of getting coal in their stockings. Fans are tired of losing and Jim Crane, checking the gate numbers, is already scrounging for spare change in his couch cushions. From the top down, this organization has to understand that they're competing with every other form of entertainment for cold hard cash. The Astros aren't just competing with the Rangers, they're competing with prime-time television, movie theatres, the zoo, hanging out at the mall, anything with air conditioning – the Astros are competing with every single option someone can spend their dollar on and the Astros are quickly finding out that they're going to need to work tirelessly for your interest… and your money. Last year, after another dismal campaign on the field and at the gate, fans proved to the Astros that they were not interested in spending money on a substandard entertainment product. Moving into the American League, where teams typically have significantly lower attendance numbers, the Astros are in real danger of not moving 1.5 million through their gates this year.
…and, if the Astros continue to lose, will it matter if they ever get good again? Once the dust settles and the Astros revive their franchise, will the fans that left come back? Where will Jim Crane's money come from?
Ask anyone who has ever competed at a high level about winning and losing. Ask Jeff Bagwell or Craig Biggio if they'd ever consider tanking a year, obstructing player development and alienating their fans for the first pick in the draft…
I met Jeff Luhnow. I sat with him during a baseball game. I watched him jump up and down like he had just won the Showcase Showdown when Chris Snyder hit a homerun against the Rockies in Colorado. He's not the kind of guy who tanks games for draft picks.
After interviewing Bo Porter, Jayne from What The Heck Bobby?, said "I dare one of these guys to tell Bo Porter to his face that the Astros are going to lose over 100 games in 2013." He would rip their hearts out of their chest. Porter is a competitor. Porter oozes intensity and spits fire. Porter is looking to start his Astros career out with a bang. He's looking to bust heads open. He doesn't give a damn about draft picks. He doesn't give a damn about who the best prospect in 2014 is.
This team is loaded with unproven players who are trying to make a name for themselves. They play a sport that doesn't have much patience for losing. The heat is on. These guys understand that if they can't produce at this level, they're going back to the minor leagues… so they're hungry to stay in the big leagues. They're not interested in riding busses and staying at Red Roof Inns for the rest of their lives. They don't give a damn about the draft picks either.
Bud Norris wants to win.
Lucas Harrell wants to win.
Brandon Barnes wants to win.
Chris Carter, Brad Peacock and Max Stassi want to win.  
…and the Astros are acquiring players who are hungry and are committed to performing at a level that'll keep them in big league uniforms for the long haul.  
They aren't making trades to get worse. They're making trades to get better. And, with the Lowrie deal, I believe they got better for the 2013 season!
This is for our team's good.
From a player development standpoint, getting your players into the habit of losing is counterproductive. If the Astros were to get the worst record in baseball, how would they accomplish that task? Chances are, they'll need another cataclysmic wire-to-wire performance, a run of poor luck and a handful of disappointing players regressing, fizzling out or just-can't-play-at-this-level. Disappointing. If the Astros lose over 100 games, Jose Altuve likely takes a step back. Perhaps Lucas Harrell shows us that his 2012 performance was a fluke, and he's unable to replicate any kind of success in 2013. Maybe Bud Norris is the same Bud Norris that he was last year, and maybe J.D. Martinez will prove to us that he will never be able to hit Major League pitching. For 100 losses, it'll likely be revealed that Jeff Luhnow got toasted in the Wilton Lopez and Jed Lowrie trades and completely missed on Philip Humber, Erik Bedard, Jose Veras and Rick Ankiel.
If the goal is getting back to respectability, this would not be a step in the right direction.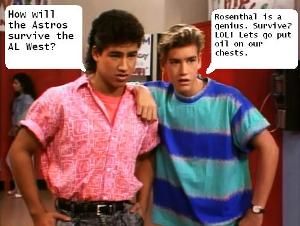 A lot of things have to blow up in the face of the Houston Astros for them to be the worst team in baseball… for the third year in a row – and, for people who are rooting for the first pick in the draft, this is what they're rooting for. Directly or indirectly, what it boils down to is that they're rooting for our team to fail miserably and they're rooting for our team to be embarrassed… in front of a national audience… for the third year in a row.
Where is the fight? Where is the drive to succeed?
They don't mind being the league's laughingstock? They are not embarrassed to lose? Where is the shame?
They might as well be wearing a Rangers hat on Opening Day.
Not one single player is going to change the Astros organization. There isn't a guy who is going to shift the balance of power. One guy isn't going to be the difference between 100 losses and 100 wins. There isn't a single player who is going to take the Astros to the World Series by himself. Carlos Correa can't do it, the guy they draft this year can't do it and neither can Carlos Rodon. 
And who is to say that the first overall pick is going to be worth tanking for? The leader in the clubhouse is Carlos Rodon, but how can we be sure that he doesn't turn out like Kris Benson or Bryan Bullington? The Twins were just a mere Altuve away from drafting Mark Prior. Prior was considered "the best college pitching prospect since Tom Seaver." "We could have flipped a coin," said Twins GM, Terry Ryan. Prior would have likely been the selection had his father not been so vocal about Mark not wanting to play for the Twins. So the Twins ended up selecting Joe Mauer, and the Cubs took Prior. Mauer ended up being a perennial All-Star and Prior's shoulder looks like a plate of rotten spaghetti.
There are no sure bets in the draft.
The counterargument points to the Washington Nationals. There has been plenty of speculation that they tanked in order to draft Bryce Harper. While I haven't heard any legitimate speculation that they tanked for Stephen Strasburg (who like Prior was highly regarded and like Prior has a history of arm trouble in his brief career), the speculation around Harper is being laid on pretty thick and has some real legs to it. However, I'll point to two things out to those wanting the Astros to follow the Nationals strategy:
1.) The Nationals haven't won jack. …ever.
2.) Teams picking at the top of the draft do not typically go on to win the World Series.
Since 1992, there are only three teams to win a World Series after having the first pick in the draft. And, only two of the first overall picks since 1992 have World Series rings.
The Marlins selected Adrian Gonzalez first overall fin 2000 and won the World Series in 2003. (Gonzalez's contribution to the Marlins World Series victory was that he was traded for Ugueth Urbina in 2003. Gonzalez never suited up for the Fish.)
The Phillies selected Pat Burrell first overall in 1998 and won the World Series in 2008. (Pat Burrell hit .250 and had 33 homeruns for the 2008 Phillies, which turned out to be his last year in Philadelphia.)
The Angels selected Darin Erstad first overall in 1995 and won the World Series in 2002. (Erstad was a key contributor for the Angels when they won the World Series in 2002.)
It doesn't take much time – go look at Baseball-Reference, check out the past first overall picks since the advent of the MLB draft, and you will notice that there is a direct correlation between who is picking first overall and how these teams typically perform year in and year out. Teams with winning traditions, with World Series rings, do not typically pick first overall… and, when they do pick first overall, it is once and then they're making efforts to compete again.
…and they do compete again.
…meanwhile, many Astros fans are hoping that Luhnow Claus slides down the chimney and places "the worst record in baseball" designation under our Christmas trees… even though we got the same crap last year and the year before that.
For our team's good?
It doesn't make any sense to me.
Winning requires a team effort. The Astros standard of winning, their standard of success, requires a collaborative effort between every single aspect of the organization – from Jim Crane down to Jeff Luhnow to Jose Altuve to Mike Fast, to the announcers, accountants, the Director of Butterfingers and Kit Kat Sciences, tour guides, hobo saxophone players, Orbit, grounds crew and anyone else who sees an Astros logo on their paycheck. And, while there are many different ways to skin a cat, to build a winning baseball organization, the equation is not very complicated - the Astros are going to have to make smart, savvy business decisions, and they're going to have to continue to put an emphasis on player development.
They must field a team worth watching.
The people rooting for the first pick need to decide how they feel about Jeff Luhnow and the direction of this organization. If you're rooting for the Astros to get the first pick, that seems like a pretty serious indictment on how you feel about Luhnow's abilities and qualifications. They need to determine whether or not Luhnow is competent, qualified and capable of constructing a winning organization without having to rely on the first pick in the draft. Does Luhnow need the first pick in the draft every year? For our team's good? From what I've seen, Jeff Luhnow is a very intelligent baseball man and I am convinced that he can operate this franchise in a fashion to which they can win at the big league level while making draft selections in any slot, any position and any round that will greatly benefit the long term success of the Houston Astros. Teams can win and reload at the same time - the Astros shouldn't have to choose one over the other.
The Astros are not the worst team in baseball. And they're going to prove it.
Bo Porter will prove it. 
Jose Altuve will prove it.
Lucas Harrell will prove it.
Jeff Luhnow, Kevin Goldstein, Sig Mejdal, Mike Fast, Stephanie Wilka and Oz Ocampo will prove it.
For our team's good. 
Our team is good.
The void is almost over and, like a bunch of school kids; we're clinching the sides of our desks and waiting for the bell to ring. We're ready for the season to start. We're ready for the Astros to get back to their winning ways. We're ready to run down those halls, bust out of those double doors and into our freedom.
Sweet.
Sweet. 
Green, sunny, sunflower-spittin', Baseball Christmas.
Go Astros.