(I sat on this particular post a lot longer than I usually do. I read it over and over again. (And, no, I still didn't catch the grammar mistakes.) I wanted to make sure that this was what I really wanted to say. I edited it. I rewrote it. I took a few things out and added a few things in. I might have been a bit insulting and I might have been a tad bit accusatory. I am passionate about the subject and I wanted this to be a powerful piece. Above all, I wanted to be fair. I hope I'm being fair. – A)
Not Without a Fight
It may have been Shaft, my old boss or an angry ex-girlfriend, but somewhere someone once told me, "I might have to break you down, but I'll never let you down."
And, after the last twelve months of being an Astros fan – I'm officially broken down.
…and officially let down.
Beaten.
Yet, through it all, I'm still passionate about the Astros. I enjoy watching them play. I enjoy going to the games. I enjoy wearing their logo. I enjoy talking about them to friends. I enjoy speculating about their plans. I enjoy writing about them on my blog.
I enjoy the Astros.
I mean that.
If I didn't like the Astros, I wouldn't waste my time on this blog.
However, I still reserve the right to be critical. I am critical when they lose. I am critical when they're unprepared. I am critical when they make poor decisions. Being a fan doesn't mean that you have to whistle and clap when your team is losing.
My criticism comes from a place of love - Astros, losing bothers me.
I hate losing.
However, the Astros aren't just losing in the field. They're losing in the stands too.  And, at this time, it doesn't appear that they have an effective plan to resolve this issue.
Over the last year, I have been more critical of the Astros than ever. I've gotten mad. I've gotten angry. I've gotten livid. And just when I think I can't possibly take anymore – I get even angrier. 
Clearly, this is not a healthy relationship.
But now that the dust has settled and I look back over the last year of Astros baseball, anger has given way to worry. And worry has given way to fear.
Yet, gratefully, fear has not quite given way to resentment or, even worse, indifference. I will always be an Astros fan. But I am no longer critical. I am scared. I'm genuinely scared of what's happening to my team - our team.
I'm worried about the direction of this franchise. I'm worried about what they'll be like down the road – in two years or five years or ten years. Are the Astros setting themselves up for "sustained success?"
Who are these guys? What have they done with our Astros? Why aren't they putting up a fight?
Since Drayton McLane sold the team to Jim Crane, things have gone from very bad to a lot worse. While I feel the organization is making significant headway in acquiring young talent, I have grave concerns about whether the Astros have the ability to create a culture of "sustained success." That seems to be the common motif spoken amidst the midnight afterglow of their business-de-jour defections.
"Sustained Success?"
Honestly, I'm not sure what Jim Crane means by "sustained success."
And that has me worried.
Instead of being angry over the Astros latest blunder – Astros fans are left to wonder what could possibly be next? What will the new regime do next to alienate themselves from their fan base? Whether it is the series of suspect realignment stories, the obscene Community "Partners" signage or jettisoning any remnants from the McLane era, Crane's regime seems much more interested in creating their own standard of irresponsibility than surpassing the standard set forth by the previous regime. How will the Astros widen the gap between fan expectations and competent ownership?
And, sadly, it doesn't seem like the organization gives a damn. Because when you send them questions or comments, they, in turn, give you this: "Thank you for write, we will take you comment into consideration." (By the way, it was pretty disheartening to see Brian McTaggart call out Brian Stevenson for "botching" Deshaies' name. It is as if he completely missed the point.)
I am worried that the Astros are sliding down the slippery slope out of significance and into deep dark hollows of irrelevance. They're focus-grouping their way into the Land of Lost Toys. I'm worried that the Astros are becoming the Indians, Orioles or A's. Jeff Luhnow is building an exciting team, but will anyone care when the Astros finally make it back to prominence?
Who will be left to cheer for the hometown team?
It seems Jim Crane has a plan. He is gambling on your fickleness. He is gambling that he'll be able to make poor and unpopular decisions, but if the team starts winning – you'll come back. And, in my opinion, that is a bet he is going to lose – big time.
Jim Crane has hired an outstanding staff of brilliant baseball people. Jeff Luhnow, David Stearns, Kevin Goldstein, Mike Fast, Oz Ocampo and the rest of the crew will build a respectable on-field product – players that we can be proud of! I firmly believe a winner is being constructed in Houston. And, when that day comes, Crane will ask you all to bury the hatchet and come back to witness the excitement of Astros baseball. But in light of how he's currently doing business, his invitation might just fall on deaf ears. Perhaps someone will say, "Thank you for ask, we will take you comment into consideration."
After the ink dried, after the money exchanged hands and Crane took the keys, almost immediately the Astros were unceremoniously (and suspiciously) demoted into the American League. We were told that Major League Baseball wanted to "even out the leagues" and "cultivate an interstate rivalry with the Texas Rangers." And, now, while dejected Astros fans are currently attempting to muster up manufactured hatred for the Rangers, Jim Crane has, directly or indirectly, cast himself as the willing accomplice to Nolan's Nine rather than the heated rival.
Crane appears to be comfortable as Robin to Ryan's Batman.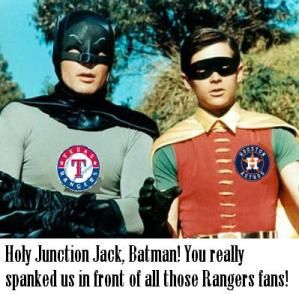 Since purchasing the Rangers, Nolan Ryan has been decidedly deliberate with his plans to snuff out our Astros. Ryan came out guns blazin', looking for a fight. Over the last few years, Ryan has changed Round Rock's affiliation from the Astros to the Rangers. He played a role in realigning the Astros into his American League West. Ryan is committed to broadening his market. His team is playing exhibition games against Mexican League teams. His team is playing an exhibition game against the San Diego Padres in San Antonio's Alamodome. And, Ryan's team was named Topps 2012 "Baseball Organization of the Year."
Meanwhile in Houston, the Astros are coming off their second "worst season in franchise history." They're embarking on a widely unpopular move into the American League. They're putting up ridiculous signage. They're running off anyone from the last regime regardless of whether they're worth a damn or not. They cannot guarantee that their games will be televised on many cable providers, and they let their popular broadcaster walk away without putting up much of a fight.
The Rangers sold exactly 3,460,280 tickets in 2012, which averages out to 42,719 fans per game last year.
Meanwhile in Houston, the Astros averaged exactly 19,848 fans per game in 2012 and sold 1,607,733 tickets. The Rangers had over twice as many fans attend their games in 2012 as the Astros did – that should be an alarming statistic for the Houston Astros. 
Don't be surprised if the Rangers outsell the Astros in 2013 by over 2 million tickets.
Out of 30 teams, the Astros were 28th in attendance in 2012. Only Cleveland and Tampa Bay fared worse. Division rivals Seattle and Oakland were 26th and 27th. As a matter of fact, the American League brought up the rear in 2012 as they took all 8 of the last 8 spots in average home attendance.
The American League consists of a few teams feasting while the rest famine. There is hardly any middle ground. The Rangers are feasting, and the Astros - grab a bowl and get in line.
Don't feel bad for those eight teams, those bottom-feeders; the owners are still making money hand over fist.
The American League is a far weaker league. However, many erroneously believe that the Astros will benefit from having "meaningful" games against the Rangers, Yankees and Red Sox – but what they're failing to recognize is that for every single "meaningful" game they play against those teams, they'll play four times as many "meaningful" games against teams that no one cares about. Baseball teams cannot attain "sustained success" by nestling the teat of better-run organizations. In no way can Jim Crane create an environment of "sustained success" by acting like a cuckold holding a video camera, while Nolan Ryan wines and dines the people Crane calls "Astros fans." 
All the while, shirts and hats with Rangers' logos are moving out the door in local sporting goods stores.
The Astros have been getting their butts kicked by the Texas Rangers since day one. And, these two haven't even taken the field for a single divisional game. Jim Crane is the "I'm just lucky to be here" wrestling jobber. He's in the ring, but he's serving the sole purpose of getting beaten to a pulp and then subsequently pinned by Macho Man Nolan Ryan.
There is nothing in the world that I want more than to see Jim Crane put up a fight. Scratch and claw, it doesn't matter – Crane needs to show the fans that he recognizes there is a problem and fight.
Just fight.
Crane needs to understand that there will be a tipping point when fans will refuse to come back. Astros fans will feel so burnt by the Astros that they will become resentful towards the club. Those feelings aren't easily healed. This situation gets even direr for the Astros when you consider how well their new interstate rivals are doing business. The Rangers are World Series contenders. They have a very competent ownership situation and are actively recruiting disenfranchised Astros fans.
Crane doesn't have to worry about losing me. I'm not leaving the Astros. I'm vocal and I'm worried – but I still care. Even fans that are resentful towards the Astros still care. The people who "just don't care anymore" are the people who will serve as the Astros coup de grace as a prominent fixture in the baseball landscape. As far as a baseball team goes, "indifference" is the scariest word in the world because indifferent fans are, in fact, no longer fans. When fans quit caring about the Astros, they'll turn to other teams or they'll turn to other forms of entertainment. They'll spend their money elsewhere. How in the world will the Astros convince those people to come back?
And when Jim Crane finds that he's burnt every bridge and has a stadium that is only full when the Rangers, Yankees and Red Sox are in town… how does he plan on creating an environment of "sustained success?" How does he plan on making money when the other twelve teams in the league are in town? How does he plan on keeping Luhnow's prized prospects from leaving when they become too good to afford? Is Jim Crane's idea of "sustained success" that of the Kansas City Royals?
Does "sustained success" mean that Jim Crane will make money on this organization regardless of whether fans show up or not?
I don't write my blog for the purpose of indiscriminately eviscerating Jim Crane at each and every opportunity. I believe that I am fair – I even lean on the side of being an "Astros apologist" because I am constantly defending the organization. Truth is, I am rooting for Jim Crane to right the ship. I want Jim Crane to succeed. I want Jim Crane to make a bunch of money and bring Houston a boatload of World Series championships. I had high hopes for Crane, and I believed he was going to fix all of the issues held over from the McLane regime. However, as Lee Street pointed out, "A baseball franchise is a public trust, and to the people who love the Astros, Jim Crane is miserably failing that trust." Jim Crane has, to this point, not met Astros fans expectations – as a matter of fact, he's fallen way short.
An email from a friend ended like this: The Astros were (at best) Jim Crane's third choice in baseball teams, but he should be commended for the skill in which he has made Astros fans feel secure in the knowledge that they are '#2' to him.
I've run out of ideas. I didn't purchase the Houston Astros – Jim Crane did. The onus is on him. Crane needs to come up with the ideas. Crane needs to be creative. Crane needs to find a way to keep Astros fans from buying Rangers merchandise at Houston area sporting goods retailers. Crane needs to fight. Crane needs to find a way to save our franchise.
And, after one year, Jim Crane has shown us that he's unprepared and not ready for the challenge of owning a Major League Baseball franchise.
I am begging, please put up a fight. In the scheme of things, I don't care if the Astros lose all nineteen games against the Rangers in 2013 – but, for God's sake, fight!
Who knows? Maybe Crane can fix this. I'm hoping that Crane will prove me wrong. I hope he's willing to fight for this organization and make Houston proud of the work he's put in. I still have a little bit of faith left in the Houston Astros. It isn't much – but it is all I have.
As corny as it sounds, I see a star in the distance, a single burning ember in the Houston sky, behind the Community Partners Billboard; a tiny glimmer of hope for this imperfect, dysfunctional franchise. But, for the life of me, I cannot tell whether this tiny glimmer is floating away or burning out.
No, I'm not worried about leaving the Astros – I'm worried about the Astros leaving me.