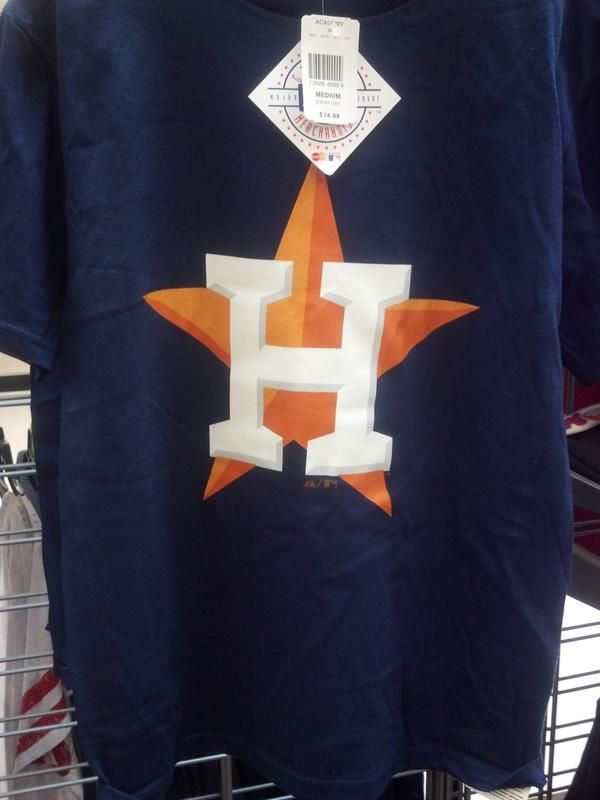 At 10:36 this morning, Eagle Eye Ernest Moreno tweeted a picture to Sports Logo Net, "I saw this at a local Academy not too long ago." A minute later, he tweeted me.
I'm generally pretty good about reading everything that is directed at me. So, when I saw this, I knew that I had to get it confirmed.
Immediately, I saved the picture to my phone and sent a text message to a friend who I thought would know.
"Hey, is this the new logo or what?"
And no less than a minute later, I got a response.
"Where was that picture taken?"
That was pretty much all the confirmation I needed.
The picture was taken at an Academy on the Gulf Freeway and Edgebrook. According to Ernest, they only had medium available, and this was the only new look merchandise on the shelf. After a few angry calls from the Houston Astros to Academy's corporate office, that particular location has since pulled all the new look merchandise off the shelf.
Sports Logo Net ran with it. The Houston Chronicle got involved and now, Ernest is a bit of a celebrity. Good for him! And, I have to admit, had I been strutting around that particular Academy, I probably wouldn't have even noticed the new gear… so, you gotta give it up to Ernest for noticing in the first place.
Academy's CEO Ronald Faldyn sent out a press release stating that they "apologize to the Houston Astros for the inadvertent leak of small quantities of the new Astros product." They go on to say that what was put on the floor "represented a small portion of the Astros new identity" and the product has been "removed from the sales floor and is no longer available for sale."
Other than that, there has been no legitimate confirmation regarding the new logo. There was speculation among bloggers like myself and uniform aficionados like Sports Logo Net. As a matter of fact, there seemed to have been coherent points made in Sports Logo Net's thread as one commenter stated "this item has been on the floor for a year." Maybe everyone should have kept their mouths shut and left a little bit of doubt amongst Astros fans? But, nay, Academy acknowledged that the picture is legit and the Astros acknowledge that Academy screwed up – so there you have it: this is the Astros' new logo. 
Personally, I like it. It is a very timeless look. They took the old logo and modernized it. I kept hearing scuttlebutt about "updated and classic" and this pretty much fits into that mold. I'm thrilled that the Astros selected to go back to orange and navy blue. However, the picture has two shades of orange and it'll be interesting to see if the new uniforms incorporate both shades or just the lighter or the darker of the two.
Who knows? We'll find out on November 2nd when the Astros present their new look to the public… unless Academy puts more new look product out on their floor and starts selling it between now and then.