by Andy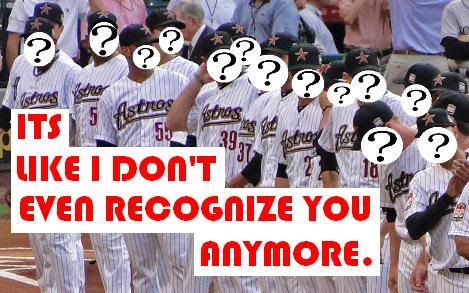 I spoke with my mom yesterday and she said, "Andy, I just don't recognize any of these guys."
"Good," I thought.
It was in 2010 when the Astros, whether it was their intention or not, embarked on a journey into the darkest, deepest depths of the National League – the league that would eventually roll over towards our Astros, wipe the sleep from their eyes and say "cab fare is on the counter, hoe." On July 29th, 2010, Roy Oswalt strong-armed the Astros into trading him to Philadelphia and forced Houston to accept the possibility that this whole thing might need to be blown up. Two days later, they traded Lance Berkman to the Yankees.
(By the way, how many rings did Oswalt win in Philadelphia anyway? How's he doing in Dallas? Oh, okay, then.)
Either McLane couldn't accept defeat or he felt that he had just enough bullets to keep fans interested – instead of trading Wandy Rodriguez and Brett Myers, Ed Wade signed them to extensions. They, along with Bud Norris, would anchor the pitching staff in 2011. The Astros had Michael Bourn setting the table with Hunter Pence and Carlos Lee providing the power – the Astros felt they could compete despite losing Oswalt and Berkman.
106 losses later, this proved to be a fatal mistake. When the writing was on the wall, Wade traded Hunter Pence to Philadelphia for a small fortune and Michael Bourn to Atlanta for… well… the jury is still out. He was left holding onto Myers and Wandy. He was holding onto Myers because no one wanted him, and he was holding onto Wandy because he likely felt he couldn't receive adequate value. What's a fair value for Wandy? I don't even know.
The rebuilding process was two years in, although the Astros had a noticeable direction, their commitment to it left something to be desired. Drayton McLane sold the Astros to Jim Crane. Jim Crane fired Ed Wade and hired Jeff Luhnow. The Astros started out respectable in 2012 but took a nosedive, and Jeff Luhnow went into full fire sale mode and started trading dudes left and right.
Luhnow dealt Carlos Lee to Los Angeles – excuse me, Miami. He dealt Brandon Lyon and JA Happ to the Blue Jays. He sent Brett Myers to the White Sox. He sent Wandy Rodriguez to the Pittsburgh Pirates. And, finally, he sent Chris Johnson packing his bags to Arizona.
Jim Crane and Jeff Luhnow finished a job that Drayton McLane and Ed Wade couldn't commit to finishing. McLane bought the ring but Crane went to the alter. McLane thought he could catch lightning in a bottle but instead caught, as Lance Zierlein would say, fart in a bottle.
As Chris Johnson shut the door behind him, he shut the door on a process that was three years in the making – the official death of the old Houston Astros and the rebirth of the new.
The team they're fielding in August is the worst team in Major League Baseball. But, it isn't much worse than the team they fielded in July of 2010. That team wasn't all that good, either.
This is about winning a World Series. This is about getting back to the Houston brand of baseball. This is about raising our standards. This is about walking through hell to get to heaven.
Since the Oswalt deal, baseball in Houston has sucked. We've experienced the worst era in franchise history. …and, as a fan, it has not been a whole lot of fun.
…but it's over and now we're starting something new.
So, maybe it isn't a bad thing that we don't recognize these guys. Maybe it'll be fun to look at our programs and say "who is Rudy Owens?" or "Ben Francisco looks a lot older than he actually is."
So, get to know your new Houston Astros. These aren't the same guy we're used to. They might be unrecognizable, but, then again, we haven't recognized the teams the Astros have fielded in the last few years either. 
7/4/12 Carlos Lee traded to the Miami Marlins for Matt Dominguez and Rob Rasmussen
I wrote about this trade last month when it happened – but I'll do a short little update. Carlos hasn't performed. The Marlins traded Hanley Ramirez, Anibal Sanchez and Omar Infante. They're now in semi-rebuild mode. They wanted to trade Carlos to the Yankees. Carlos played his no trade clause card and will be spending the rest of the season sunbathing in South Beach – unless he's released.
Ha!

So, who did the Astros get in return?
Matt Dominguez is a former first round (12th overall) selection of the Marlins in 2007. He's a sure-handed third basemen who became expendable when the Marlins signed Jose Reyes and moved Hanley Ramirez to the hot corner (how'd that work out for them?). Dominguez, 23, had a cup of coffee with the Marlins in 2011 and got 8 at-bats with the Astros after the trade.
As of now, Dominguez will find himself in the middle of the Astros prospect list – but, I'll have to do a little more research to determine exactly where he belongs. Somewhere around Santana, I would think.
Rob Rasmussen was the Marlins' 2010, second round selection from UCLA. He's a left-hander who will need to rely on location. He has a four pitch repertoire featuring a sinking fastball, curve, slider and change. He doesn't look to light up the radar gun – he'll probably sit around 90 or 91mph. Rasmussen is able to dial it up, if need be, and I wouldn't be surprised if he finds himself in the bullpen eventually.
7/20/12 Brandon Lyon, JA Happ and David Carpenter traded to the Toronto Blue Jays for Asher Wojciechowski, Carlos Perez, David Rollins, Joseph Musgrove, CoCo Cordero, Ben Francisco and a player to be named later
At the beginning of the season, if I told you that Brandon Lyon and JA Happ would headline a deal that would yield up three top prospects for the Astros system – would you believe me?
…and before we give all the credit to Jeff Luhnow for pulling the trigger on such an outstanding deal, we'd be remiss not to give most of the credit to Lyon and Happ. Both of these guys were slightly above zeroes coming into this season, but pitched their asses off and, as Astros fans, we gotta give them a little bit of credit for that. Lyon and Happ took turns playing team whipping boy, but when all was said and done, they played well enough that someone wanted them bad enough to trade away some pretty decent prospects.
Asher Wojciechowski (and I'm sure I'm not spelling that right) is a former 2010 first rounder (41st overall) out of The Citadel. Before being traded, Wojo (as we'll call him henceforth) had a 7-3 record, 3.57 ERA and 76 punchouts for Toronto's high A affiliate. After the trade, Wojo was assigned to Corpus Christi, where he'll remain a starter. He has a very good fastball and slider and has developed a decent change. Wojo will flirt with the Astros top 10 – if he's there, he'll be closer to 10 than 1.
Carlos Perez could be the best player to come out of this deal. He's a reasonably balanced catcher who can provide a little bit of offensive pop, hit for average and play better-than adequate defense. Perez has a strong arm and has decent speed. Perez, 21, was signed out of Venezuela in 2008 and has progressed through the Blue Jays system and has found himself in Lancaster after the trade. Before the deal, he was hitting .275 with 5 bombs for Toronto's A ball affiliate. I'm not sure if rushing him to the majors is going to be Luhnow's plan – but I could see him making short work of AA and AAA and finding himself in Houston in 2014. Perez can and will certainly find himself in the Astros top 10 prospect list.
David Rollins is a Texan – so he has that going for him. He is a left handed pitcher who has had a rough go with his right shoulder – he's had two surgeries. After being drafted for the fourth time, Rollins signed with the Blue Jays after being selected in the 24th round out of San Jacinto College. He's put together a very solid season for the Blue Jays A affiliate in Lansing, starting 18 games and registering a 6-1 record, a 2.78 ERA and 75 strikeouts. Despite his injury history, he has a year of professional baseball under his belt and seems to be making strides – I wouldn't write this guy off.  

Like Rollins, Joseph Musgrove, 19, was one of the Blue Jays 2011 draft picks – he was taken in the 46th round. The first thing that will draw your attention to Musgrove is his size, he's a very healthy 6'5", 230lbs – in another words, he's a grown ass man. While only logging 33 professional innings, Musgrove utilizes a plus fastball, a hard curve and mixes in a splitter in between. In my opinion, he's probably the most intriguing of the four prospects Luhnow received in this deal. With his build and tools, Musgrove projects as a front-to-middle of the rotation workhorse. This is definitely a guy to get excited about.
Ben Francisco and CoCo Cordero were also dealt to the Astros. I imagine Cordero will be released in the near future and Francisco will spell some of the outfielders, as he doesn't play a huge role in the Astros long term plans. However, if Francisco can show Mills he can hit, perhaps Mills will favor him over a Bogusevic or a sluggish JD Martinez.
As of now, we're not sure when the PTBNL will be announced and it makes absolutely zero since to speculate because we have absolutely no idea on who it could be. 
7/21/12 Brett Myers and cash traded to the Chicago White Sox for Blair Walters, Matthew Heidenreich and a player to be named later
This was where the Jeff Luhnow love affair inexplicably ended.
Earlier in the season, I made a suggestion that Brett Myers could be kept around for 2013. I wrote that having Mentor Myers around some of the younger guys might be mutually beneficially for Myers and the team – I was wrong.
As noted by a few folks, Brett Myers was a cancer – and he wasn't really hiding it, either. I've always known that Myers had an attitude and, truth be told, I like those kinds of players, however, Myers crossed lines professionally and personally and needed to go. Rumor has it that Myers had anger issues that boiled over into physical altercations with Jamie Quirk and Bud Norris. Ridding themselves of Brett Myers was addition by subtraction.
The fact that news spreads from clubhouse to clubhouse could be the reason why some perceive the Astros got less than adequate value for the closer.
But, then again, what was to be expected for Brett Myers anyway? Without the off-the-field issues, Myers was still coming off a very weak 2011 campaign. While he proved to be a very good closer for the Astros, he is nothing more than a back of the bullpen arm on a competitive team – I'm a bit confused as to why everyone is surprised that Luhnow wasn't able to steal away Chicago's top prospects – this is Brett Myers and not Babe Ruth.
He's a GM – not a magician, people!
So, who did the Astros get? Well…
Blair Walters, out of Hawaii, was Chicago's 11th round selection in last year's draft. The 22 year old was assigned to Lancaster after the trade to the Astros. He's compiled decent numbers throughout his professional career but has stumbled in high A. I would think that Walters best possible outcome would be a back-of-the-rotation starter, but he's more likely a middle relief guy or, worst case scenario, organizational depth.
Matthew Heidenreich is a significantly better prospect than Walters. I'm not saying Walters is bad – there's a place for Walters in Houston, but Heidenreich is a very projectable pitcher who could find himself doing big things in the future. Heidenreich was the White Sox' fourth round selection in 2009. The 21 year old had worked his way up to AA Birmingham before the trade and has most recently been assigned to Corpus Christi in the Texas League. At 6'5" and 185lbs, Heidenreich has a very lanky build and his frame doesn't appear that it'll let him fill out much more than that – hey, some dudes are skinny. He has an advanced three pitch array featuring a plus sinking fastball and a plus change-up. Heidenreich is a guy who could find himself pitching in AAA before the season is over. 
7/24/12 Wandy Rodriguez and cash traded to the Pittsburgh Pirates for Colton Cain, Robbie Grossman and Rudy Owens
Losing Wandy sucks. As you know, Wandy has been with the Astros since 2005 and we've had the opportunity to watch him develop into one of the premier lefties in the league. It also goes without saying that it is a credit to the Astros organization for sticking with Wandy because he had a few very rocky seasons… it seemed like his first few years, he'd make a start, pitch brilliantly, get frazzled and then implode. I hope Jordan Lyles paid attention and took notes.
Congratulations, Pittsburgh, you just got an outstanding pitcher – one of my favorites.
In return, the Astros got a reasonably impressive cache of prospects that should develop into major leaguers.
A native Texan, Colton Cain is a former Pirates' 2009 8th round selection. Cain had a scholarship to Texas, but opted against it after getting $1.25 million from the Pirates to begin his professional career. Not that it matters to the Astros anymore, but Cain was considered a power-hitting first baseman at the high school level and was likely to get time as one in Austin. Cain, 21, is a strong lefty who hits the low 90s. He's big – he's 6'3" and a beefy 255lbs. Although you'd expect him to be more a power pitcher, he instead relies on being deceptive and keeping hitters off balance by utilizing a selection of above average breaking pitches. Injuries are a concern for Cain as he's missed significant time in his brief professional career. As far as the top 10 prospects go, Cain would likely be on the outside looking in, but, if he finishes strong, he might develop into one of the more intriguing pitchers in the Astros farm system.
Robbie Grossman comes to the Astros after spending four years in the Pittsburgh organization. Drafted locally out of Cy-Fair, the outfielder was taken in the 6th round of the 2008 draft. Grossman's stock skyrocketed after a monster 2011 campaign at high A Bradenton where he hit .294 with 13 bombs, 56 RBI and over 100 walks and 100 hits. He also had 34 doubles and had a .869 OPS. Grossman has been assigned to Corpus Christi where he has hit .300 in his limited time as an Astros prospect. He'll be considered one of Houston's top prospects – not quite in the Springer, Singleton, Correa echelon, but likely a tick lower around Santana, Dominguez and Lino. However, Grossman has had some problems – namely a mysterious week-long suspension "due to an issue internally." Now, I'm not sure what constitutes a week long suspension, but in football, you miss a quarter for showing up late to a meeting. I'm not exactly sure what Grossman pulled, but let's hope our boy learned his lesson and is ready to play by the rules.
Rudy Owens has been a highly regarded Pirates prospect since 2009. Owens, 24, was the Pirates' 28th round selection in 2006. Owens, a lefty, was assigned to Oklahoma City where he is likely to make a trip to Houston sometimes before the end of the season. In 19 starts for Pittsburgh's AAA affiliate in Indianapolis, Owens went 8-5 with a 3.14 ERA. His stuff isn't amazing, but it is just enough to be a productive major leaguer. Rudy doesn't not have a strong fastball, but will instead, rely on locating his pitch and throwing strikes. Although he's likely the weakest of the haul for Rodriguez, he's the closest to being major league ready and will certainly provide some support at the back end of the rotation or as a spot starter.
7/29/12 Chris Johnson is traded to the Arizona Diamondbacks for Bobby Borchering and Marc Krauss
Chris Johnson being dealt was somewhat of a shock. I knew that just about everyone was available, but after Wandy was dealt, I felt Luhnow was probably finished trading. 
I was wrong.
Oh, a big congrats to CJ for hitting a grand slam in his first game with the Diamondbacks. It's not easy turning the page when you watch these guys grow up through the farm system and spend a couple of years with your hometown team – all of these guys (even Carlos), I wish them all luck and success… except, of course, when they're playing the Astros.
Bobby Borchering was one of Arizona's top prospects before losing favor after struggling offensively and being exposed as having a weak glove. However, Borchering is only two years removed from being Arizona's first round (16th overall) selection, and there's plenty of time for the 21 year old to find his groove at the plate. At the beginning of the season, Borchering was regarded as the Diamondbacks' top power hitting prospect. He started out well in the Cal League and was promoted after hitting .277 and 18 homeruns in 81 games but has struggled mightily since then, hitting .138 in 22 games in AA. Borchering is feast or famine at the plate and will need to cut down on strikeouts if he ever wants to make it to Houston (or OKC for that matter). …and he'll need to find a position, too, because his glove is pretty bad – he'll likely project as a DH when all is said and done. I am excited about Borchering because I believe he can turn it around and become a productive player at the big league level. He's likely on the outside of the top 10, but not by much, in my opinion, not by much.
Marc Krauss knows how to make an entrance! In his first plate appearance as an Astros farmhand, he took Josh Geer deep. Krauss is a 24 year old, former 2nd round pick of the Diamondbacks from 2009. Although he isn't a highly regarded prospect, he's put up decent numbers at each stop and has made quick work of Arizona's farm system. He's somewhat advanced for his league and should be in line for a promotion to Oklahoma City in the near future. The outfielder hit .283 with 15 homeruns before the trade and with 91 strikeouts so far – he'll likely hit triple digits by the end of the week. Krauss does not project as a superstar but could hold down a spot at the major league level as a fourth or fifth outfielder. 
7/31/12 Astros trade… no one.
After a lot of bootychatter about Bud Norris, Wilton Lopez and Jose Altuve, the Astros remained silent at the deadline. While there are several players that could clear waivers, I'm assuming the Astros will not partake in much more player movement other than a release here or there and a few promotions.
This isn't a good team. But they're getting better. Ed Wade laid the foundation and Jeff Luhnow was able to tie up all of the loose ends. There's quite a ways to go – but the Astros are going somewhere. From the ground up, this organization is head and shoulders better than they were five years ago.
This isn't a team you're going to recognize – but you get the opportunity to learn some new names and root for a younger, fresher crop of Astros. This might not be 1991 all over again – but this organization has the potential to be great again.
I think tomorrow I'll start quizzing my mom on some of these players!