Let's be honest, this might not be a popular post with a lot of Astros fans. Just bringing it up at work nearly started a fist fight between me and another coworker. Heck, to be honest, eight year old me is severely pissed off that 31 year old me even has the stones to put this to writing. But here's the truth…..Nolan Ryan is the enemy. I don't mean we should dislike him based on our soon to be manufactured rivalry with the Dallas Rangers……. No, I mean Nolan Ryan does NOT want what is best for Houston, and I would even go as far as to say he wants the Houston Astros to fail.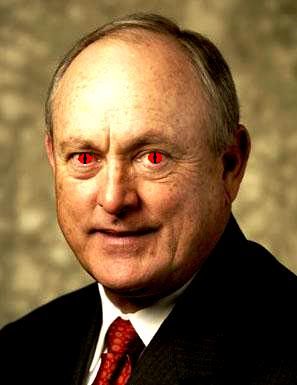 Why is it so hard for us to come to grips with this? For starters, Nolan is an enormous piece of Astros history. Anyone over the age of 28 can still remember Ryan mowing hitters down in the Rainbow unis. He was everything young Texas ballplayers wanted to be: Tough, Fearless, Dominant etc. Nolan was a hero to all Houstonians. Unfortunately, that started to change in 1988 when Nolan left for that other Texas team amid a contract dispute. Do I blame Nolan entirely? Absolutely not. However, as you may well know the Rangers have one player in the HOF as opposed to the zero the Astros boast (Thanks a lot BBWAA….. Bagwell should already be there!), and that is because Nolan chose to enter the HOF as a Dallas Ranger! You know, because everybody recognizes Nolan Ryan from his last 4 years as a Ranger and not the entire decade of the 80's when he made the Astrodome his personal S&M dungeon for opposing hitters. Nolan chose that honor, and in the process robbed the city of Houston a chance to once again claim our baseball hero.
Alas, Nolan did come back to the Astros organization post career, and even owned two minor league affiliates, but even that ended up a gigantic negative for Stros fans. Once Nolan sold his immortal soul to Tom Hicks and became the President and CEO of the Dallas Rangers, he decided to take our AAA affiliate and instead give us Oklahoma City. Great. Now our highest minor league team plays their games in the armpit of America …..North Dallas! As owner of both teams I guess Nolan had the right to make that decision, but you can't argue that this didn't suck for an Astros organization starting to finally put some effort into rebuilding their minor league system.
Still, the real reason to begin viewing Nolan Ryan as enemy #2 on the Astros list (Bud Selig can NEVER be displaced as #1!), is his weasely campaigning for the impending move to the AL West. Let's look at some quotes of his shall we…….
"I grew up an Astros fan and I look at the Astros as a National League team, but I understand the desire to balance out the two leagues"  - Really Nolan? You are such a huge Astros fan that you chose not to enter the HOF wearing the cap of the team you had the most success with, and who you apparently grew up idolizing? Major League baseball was such a complete disaster being unbalanced, that you felt it would be necessary to remove your childhood team from the league that they, and you, have enjoyed enormous support for 50 years? Let's read on….
"It'd be good for baseball in Texas to have two teams in the same state vying for the division lead." Let me translate that….. "It'd be tremendous for North Texas to have a playoff tested veteran team dominating a young rebuilding team so that the Dallas Rangers can continue their recent history of trying to steal Astros fans in the great state of Texas."  It's great timing for the Rangers to suddenly be our in state rival. Where was the demand for this rivalry during the 30 years the Dallas Rangers were busy sucking, and best known for that clown Jose Canseco head butting a homerun over the fence? Also, who among you has been riveted at the ongoing competitive clash of titans known as "The Silver Boot"? 
"From our perspective I like having them in the same division because it gives us a team in our time zone…" So let me get this straight, moving the Astros to the AL West is good for baseball because the Dallas Rangers will get to play more games in their time zone AND the Houston Astros will begin playing a lot more out of their time zone…..got it. Notice the use of the words our and us, whenever Nolan uses those words now, he is NEVER talking about the Houston Astros or their fans.
Finally, "If we can improve our situation, the Texas Rangers and I certainly would be open to it." That pretty much sums it up folks. Nolan was probably THE biggest proponent of moving the Astros to the AL. He has one team's well-being in mind and that is the Dallas Rangers. These are just the quotes that I could locate; one has to believe that behind the scenes Nolan has been in Selig's ear with a whole lot more enthusiasm for the move.
So here come the Rangers to town and what does Houston do? We are rolling out the red carpet for Nolan, Josh Hamilton, and the rest of the organization who would love nothing more than to make us their loser step brothers for the next decade, by having Ryan throw a first pitch out and giving away Nolan bobble heads. Haven't we honored Nolan Ryan enough? When does Houston start changing its attitude and standing up for itself? Sure Nolan you can come to the games, but just know that you are now the enemy and we plan on making you regret the day you pined to have the rebuilding Stros forced into your division.
I don't mind honoring a great player, and I am surely not giving away my signed Nolan Ryan baseball, but 31 year old me is starting to convince 8 year old me that Nolan Ryan is the enemy. This team is becoming a lot more fun to watch, and the minors are looking more promising than I can remember! Let Nolan Ryan have his Dallas Rangers, we have the Houston Astros…..and we aren't going to let a former hero take them away from us!